Mere Christianity – Book II – Chapter 2 ("The Invasion")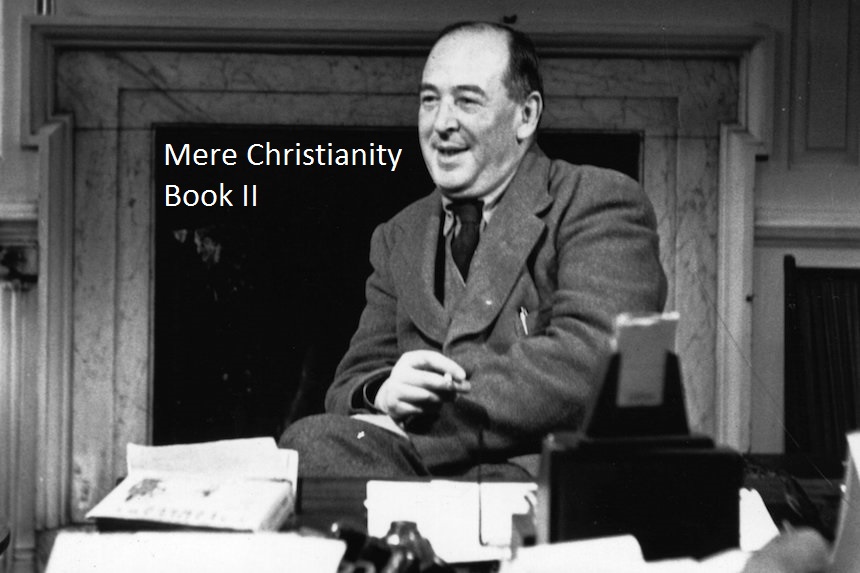 Continuing my notes on Book II of "Mere Christianity"…
Notes & Quotes
1. Jack identifies two philosophies which are "too simple"
(a) Atheism
(b) Christianity-and-water
"…the view which simply says there is a good God in Heaven and everything is all right – leaving out all the difficult and terrible doctrines about sin and hell and the devil, and the redemption"
2. In contrast, Christianity is not simple
(a) That's because real things are not simple
(i) Looking at a table is complicated
"…The table I am sitting at looks simple: but ask a scientist to tell you what it is really made of – all about the atoms and how the light waves rebound from them and hit my eye and what they do to the optic nerve and what it does to my brain…and…you will find that what we call 'seeing a table' lands you in mysteries and complications which you can hardly get to the end of"
(ii) Planet configurations are unexpected
"…when you have grasped that the earth and the other planets all go round the sun, you would naturally expect that all the planets were made to match… In fact, you find no rhyme or reason (that we can see) about either the sizes or the distances; and some of them have one moon, one has four, one has two, some have none, and one has a ring"
(iii) This is actually a motive of credibility for Christianity
"Reality, in fact, is usually something you could not have guessed. That is one of the reasons I believe Christianity. It is a religion you could not have guessed….it has just that queer twist about it that real things have"
(b) You can't demand for a non-simplistic explanation and then complain about its complication
"If we ask for something more than simplicity, it is silly then to complain that the something more is not simple"
3. We are presented with a problem between the our intuitions about the universe
"What is the problem? A universe that contains much that is obviously bad and apparently meaningless, but containing creatures like ourselves who know that it is bad and meaningless"
There are two possible conclusions we could draw from this:
(a) The Christian View
"…this is a good world that has gone wrong, but still retains the memory of what it ought to have been"
(b) The Dualistic View
"…there are two equal and independent powers at the back of everything, one of them good and the other bad, and that this universe is the battlefield in which they fight out  an endless war…"
What do we mean when we identify one power as "good" and the other "bad"?
(i) Personal opinion, which means we cannot use words like "good" and "bad"
"…merely saying that we happen to prefer the one to the other – like preferring beer to cider…[in which case]…good would not deserve to be called good"
(ii) Objective difference, which points to something greater than both of them
"…one of them is actually wrong… But the moment you say that, you are putting into the universe a third thing in addition to the two Powers…the Being who made this standard is farther back and higher up than either of them, and He will be the real God"
4. Dualism has another problem in that it requires the bad Power to like badness for its own sake…
(a) …but we have no experience of this
"…in real life people are cruel for one of two reasons – either because they are sadists…or else for the sake of something they are going to get out of it…
(a) …badness is contingent on goodness
"The badness consists in pursuing [good things] by the wrong method, or in the wrong way, or too much… Goodness is, so to speak, itself: badness is only spoiled goodness…[the "Bad Power] cannot supply himself either with good things to desire or with good impulses to pervert. He must be getting both from the Good Power. And if so, then he is not independent"
(i) This is why Christians believe what they do about the Devil
"To be bad, [the Bad Power] must exist and have intelligence and will. But existence, intelligence and will are in themselves good….even to be bad he must borrow or seal from his opponent. And do you now begin to see why Christianity has always said that the devil is a fallen angel? …evil is a parasite, not an original thing"
5. Christianity agrees that the universe is at war, but not between independent powers
"…it is a civil war, a rebellion, and that we are living in a part of the universe occupied by the rebel. …the rightful king has landed…and is calling us all to take part in a great campaign of sabotage. When you go to church you are really listening-in to the secret wirelesss from our friends: that is why the enemy is so anxious to prevent us from going"
Discussion Questions
1. What two philosophies does Jack claim are "too simple"?
2. Why should we not expect a "simple" religion?
3. Why is its lack of simplicity actually an argument in favour of Christianity? Have you encountered any other surprising motives for credibility for the Christian faith?
4. How can we explain a "bad" universe which contains creatures like ourselves?
5. What is dualism? Can you name any religions which are dualistic?
6. How does dualism naturally point to a greater Being, over and above to the "good power" and "bad power"?
8. In what way is evil "not an original thing"? How does this undermine dualism.
9. What kind of war does Jack say we are fighting?
C.S. Lewis Doodle
I couldn't find a Doodle 🙁