Camino Tips: Equipment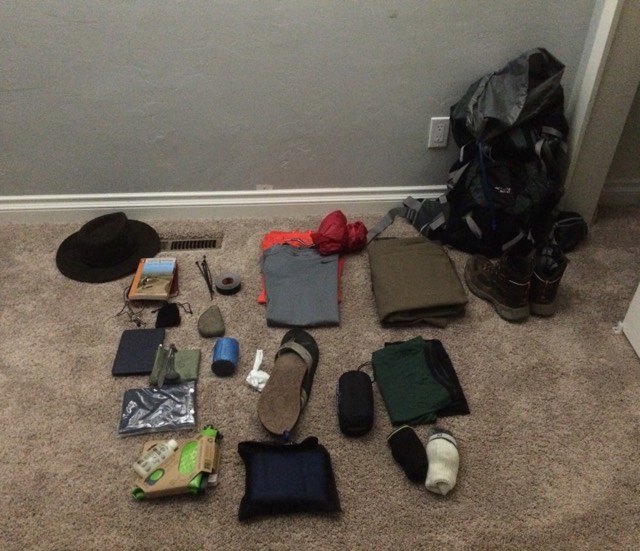 Probably the most important thing to consider when preparing for the Camino is your pack. In assembling mine, I consulted the list of recommendations found in a companion book I had bought, as well as some other lists I found online. Here is a categorized list of everything I carried on my back along the Camino:
Walking Gear
Backpack (with rain sheet)
Waterproof jacket
Waterproof trouser/pants covers
Hat (for sun/rain)
Sunglasses
Suntan lotion (SPF 30+)
Buff Headwear (great for keeping the sun off your neck)
Trainers/sneakers for exploring the town in the evenings (Optional)
Clothes
Long sleeve (quick-dry) tops x2
T-shirt (quick-dry) x1
Trousers which convert to shorts x2
Underwear x2
Socks x4
A pair of shorts to be used as pyjamas
Sleeping
Sleeping bag (liner)
Inflatable pillow
Washbag
Flip-flops for the shower
Toothpaste/Toothbrush/Floss
Nail clipper
Quick-drying towel
Laundry
Concentrated washing liquid
Scrubba (Optional, but very convenient and a great conversation starter)
Plastic Clothes Pegs
Other
First Aid Kit (Compeed, scissors, band-aids/plasters, tape)
Phone (and charger)
Camino Scallop Shell (Buy in St. Jean)
Camino Guide Book/Maps
$300 in Euros and an ATM card
I'll be drawing particular attention to some of these items in subsequent posts.
Equipment | Before you leave home | On the road | Staying in Hostels