A nice conversation about killing small children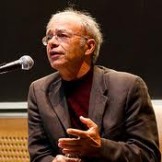 Last week at Theology On tap we had Cy Kellett spoke to us on "Voting Your Conscience" and during the Q&A he mentioned Peter Singer, the Professor of Bioethics at Princeton.
I wonder if some people present thought that Cy was exaggerating when he described some of the opinions held by this chap. Well, thanks to Aggie Catholics, I'd invite you to watch the video below without gasping in horror at some of the things said in his interview with Richard Dawkins…
(Unfortunately, this wasn't the original video I shared – the one before had Dawkins praising Singer for being "the most moral person I know")
If you watch the uncut version of the interview, Dawkins begins the interview with the accolade "Peter, I think you must be one of the most moral people in the world…"….wow…kyrie eleison.