Posts Tagged 'Resurrection'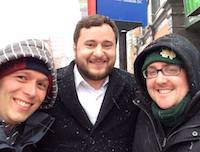 My good friend Joe Heschmeyer will soon be abandoning the United States in order to complete his final seminary studies at the North American College (NAC) in Rome.  Given the recent World Cup defeat of the England at the hands of the Italians, I take this as an extremely personal betrayal.
Fortunately for Joe, I've decided to forgive him and post the talk he gave recently on the subject of the Resurrection:
If you'd like to see the rest of the presentation and read his notes, they're available here.