Thirteenth Sunday in Ordinary Time: July 1st, 2012
There are a number of common themes found among the Reading for Mass this week. Death is the subject our First Reading from the Book of Wisdom and it is found again in our Gospel. The theme of Faith in God's saving power is also present. In our psalm we sing "I will praise you, Lord, for you have rescued me" and in our Gospel Reading we hear of two such individuals who reached out to Jesus in faith and were blessed.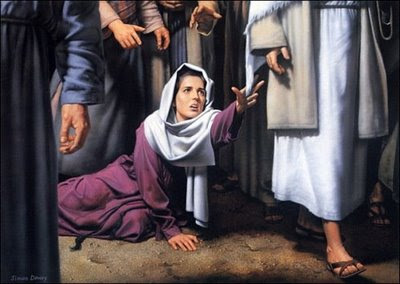 As we come to the Eucharist this week, let us fall at the feet of Jesus, reach out with expectant faith, praying for the Lord to restore us to the fullness of life.
In times of spiritual cooling and laziness, imagine in your heart those past times when you were full of  zeal…remember your past efforts and the energy with which you opposed those who wished to obstruct your progress. These recollections will reawaken your soul from its deep sleep, will invest it anew with the fire of zeal, will raise it, as it were, from the dead and will make it engage in an ardent struggle against the devil and sin, thus returning to its former rank. -St. Isaak of Syria