I saw this over at The Sacred Page: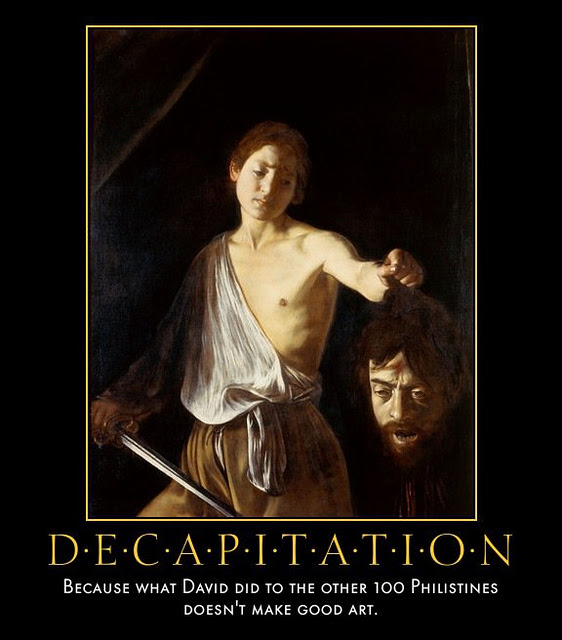 If you don't understand why this is funny, take a look at 1 Samuel 18:27…
Today I'd like to share a few thoughts about one of the lesser-known stories about my Biblical namesake, arguably the greatest king in Israel's history, David.
Hail to the King, baby!

In the eighth chapter of Second Samuel, we are told of David's great military victories and the tribute brought to him by other kings. David had clearly "made it": his Kingship was secure, Israel was safe and the Ark of the Covenant had been brought back to Jerusalem where it belonged.
Personally, I would have expected that it would be time for David to put up his feet and enjoy some of the benefits that came from being king. However, what follows in 2 Samuel 9 is something rather different:
"David asked, 'Is there anyone still left of the house of Saul to whom I can show kindness for Jonathan's sake?'  …Is there no one still left…to whom I can show God's kindness?" – 2 Samuel 9:1, 3
What a reaction! Rather than simply indulging himself, David looks to use his wealth and power to bless others!
Background: Biblical Homeboy
To understand the meaning behind David's question, we must look a little further back in events recorded in the books of 1 & 2 Samuel. The "Jonathan" David referred to above, was son of the "Saul" he mentions, the same Saul who was the former king of Israel (1 Samuel 10:24). Because of Saul's disobedience, God rejected him as king (1 Samuel 15:23), choosing the shepherd boy, David, to be his successor (1 Samuel 16:13).  Despite Saul's jealousy (1 Samuel 18), Jonathan and David were extremely close friends, even from their first meeting:
"Jonathan became one in spirit with David, and he loved him as himself… And Jonathan made a covenant with David… Jonathan took off the robe he was wearing and gave it to David, along with his tunic, and even his sword, his bow and his belt" – 1 Samuel 18:1-4