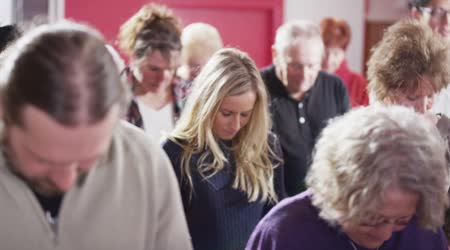 If you have ever visited an Eastern Catholic parish or Eastern Orthodox parish, you will have noticed that whenever the Trinity or any of the divine names are mentioned, the priest and people will cross themselves and incline their heads in a bow, even if only slightly.
This is a practice I really like and I've often wished that this would be more present at western parishes. Well, I recently found out that, at least in theory, it should happen there too…
The place where you discover this is the General Instruction of the Roman Missal (GIRM), which is basically a commentary on the Missal, explaining how Mass should be celebrated:
A bow of the head is made when the three Divine Persons are named together and at the names of Jesus, of the Blessed Virgin Mary and of the saint in whose honor Mass is being celebrated.
– GIRM 275
How about that?! I did a little more digging and found out that this practice has considerable antiquity. For example, in the 13th Century, the Fathers of the Council of Lyons seem to have been inspired by the epistle to the Philippians where St. Paul talks about how "at the name of Jesus every knee should bow, in heaven and on the earth and under the earth" (Philippians 2:9-10). Here's what the Council said:
Each should fulfill in himself that which is written… that at the name of Jesus every knee should bow; whenever that glorious name is recalled, especially during the sacred mysteries of the Mass, everyone should bow the knees of his heart, which he can do even by a bow of his head.
– Council of Lyons II, Constitution 25
So, even if it's not common practice in your parish, I'd invite everyone to follow the guidance offered to us by the GIRM and to honour the Lord, His Mother and His Saints with this small gesture of reverence.