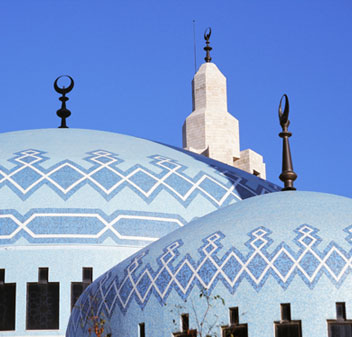 Today I would like to conclude my introductory series to Islam. This series wasn't intended to be an apologetic response to Islam, just an accurate and objective description of Islamic belief and practice. It is my hope that this will lead to a better understanding of Islam by Christians.
Over the course of this series we have looked at the origins of Islam, Muhammad, the teaching of the Qur'an, as well as the faith and obligations of Muslim life.  I would now like to conclude by looking at what the Catholic Church had to say about Islam at the Second Vatican Council.
The Catholic Church sets forth its binding teaching regarding Islam in the "Declaration on the Relation of the Church with Non-Christian Religions" (also known as "Nostra Aetate", literally "In our time"):
#1 In our time, when day by day mankind is being drawn closer together, and the ties between different peoples are becoming stronger, the Church examines more closely her relationship to non-Christian religions. In her task of promoting unity and love among men, indeed among nations, she considers above all in this declaration what men have in common and what draws them to fellowship.
One is the community of all peoples, one their origin, for God made the whole human race to live over the face of the earth. One also is their final goal, God…
The church says that she sees it her task to "promote unity and love". This unity and love is fostered by considering what unites humankind and, in this "big picture" vision of the world, we are reminded that every single person comes from God and every single one will, some day, return to Him.
#2 … The Church, therefore, exhorts her sons, that through dialogue and collaboration with the followers of other religions, carried out with prudence and love and in witness to the Christian faith and life, they recognize, preserve and promote the good things, spiritual and moral, as well as the socio-cultural values found among these men.