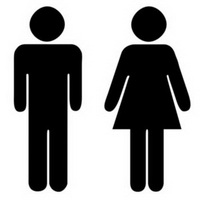 Last week I wrote two posts on the subject of dating outside of the Catholic Faith. In an effort to keep those posts focussed, I had decided to address the specific scenario of a couple composed of two Christians, a Catholic and a Protestant.
However, as I was writing, there was one issue related to dating outside of the Catholic Faith that I particularly wanted to raise, but since it didn't naturally fall within the parameters which I had set for those articles, I decided to omit it. In today's brief post, therefore, I would like to return to this issue.
In the previous post, I presented three main areas for potential conflict between a Catholic and a Protestant:
1. The Wedding
2. Religious Practice
3. Children and family life
In addition to these three areas, when a Catholic dates a non-Christian (as opposed to a non-Catholic), there is another area of potential conflict which is particularly worth considering:
4. Chastity
Is your potential spouse committed to chastity? Will this person do everything possible to help you remain chaste?
It is worth pointing out that potential contention over the subject of chastity is certainly not limited to the situation where a Catholic is dating a non-Christian. It is possible that conflict may arise when dating a Protestant or, as I highlighted in my previous post, even a fellow Catholic. There is no guarantee that someone who identifies as "Catholic" actually will believe or practise the entirety of the Catholic Faith.