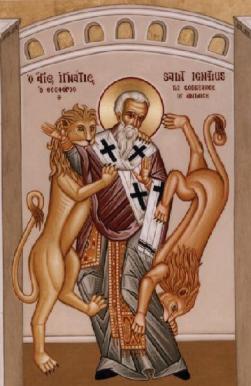 This is the first entry in what I hope to be a regular series of posts about the Early Church Fathers.
It is a good thing to study the Early Fathers because by reading their writings we can get a better picture of what the Church looked like during those early centuries, both during the years of persecution and the years of peace.
The Church Fathers speak to us of the Faith they learned from the Apostles and from their immediate successors.  If we would sit and listen, their words can still instruct and inspire us today, just as they did for Christians under their care in their own time.
I would like to begin this series of entries with my favourite Early Church Father, the inspirational martyr and gifted writer, St. Ignatius of Antioch.
"Blessed is the man who perseveres under trial, because when he has stood the test, he will receive the crown of life that God has promised to those who love him."
– James 1:12
My posts on the Fathers will not normally be this long, but reading St. Ignatius for the first time had some a profound effect on me I want to try and do him justice.  Read to the end, it'll be worth it, I promise.