Mere Christianity – Book II – Chapter 4 ("The Perfect Penitent")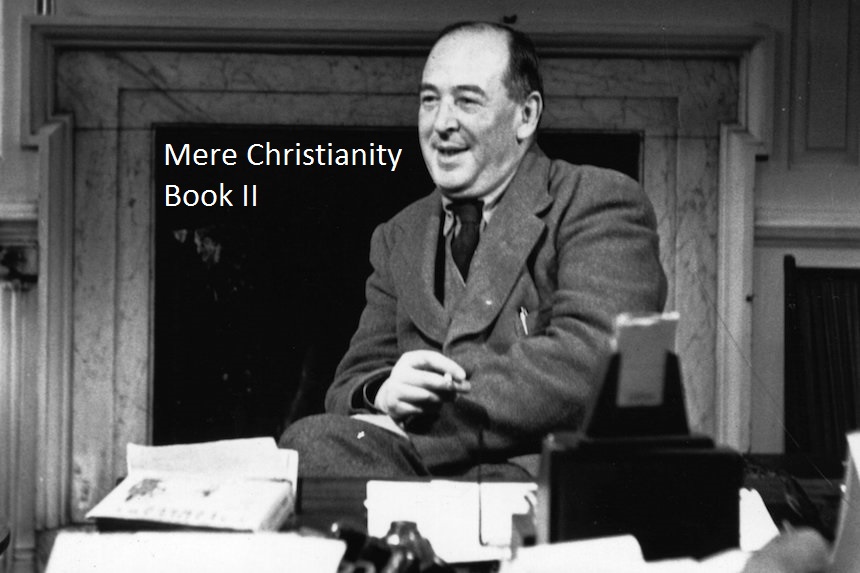 As we reach the half-way mark of Book II, these are my notes for Chapter 3…
Notes & Quotes
1. Jesus came to teach, but also to die and rise
"…as soon as you look into the New Testament or any other Christian writing you will find they are constantly talking about…His death and His coming to life again. It is obvious that Christians think the chief point of the story lies there"
(a) Christians believe that Christ's death changed everything, but there are different theories as to how this happened
"The central belief is that Christ's death has somehow put us right with God and given us a fresh start. Theories as to how it did this are another matter… Theories about Christ's death are not Christianity: they are explanations about how it works… We are told that Christ was killed for us, that His death has washed out our sins, and that by dying He disabled death itself…. That is Christianity. That is what has to be believed."
(b) The fact that it works is much more important than how it works
"People at their dinners and felt better long before the theory of vitamins was ever heard of: and if the theory of vitamins is some day abandoned they will go on eating their dinners just the same… A man can eat his dinner without understanding exactly how food nourishes him. A man can accept what Christ has done without knowing how it works…"
2. One theory about how this works is substitutionary atonement
"…[we are] let off because Christ has volunteered to bear a punishment instead of us"
(a) This theory presents some challenges
"If God was prepared to let us off, why on earth did He not do so? And what possible point could there be in punishing an innocent person instead?"
(b) …but this can perhaps be made more understandable through understanding it in terms of debt
"…there is plenty of point in a person who has some assets paying it on behalf of someone who has not….it is a matter of common experience that, when one person has got himself into a hole, the trouble of getting him out usually falls on a kind friend"
3. Man has got himself into trouble by rebelling against God
"He had tried to set up on his own, to behave as if he belonged to himself…fallen man is not simply an imperfect creature who needs improvement: he is a revel who must lay down his arms"
(a) This rebellion requires repentance
"This process of surrender – this movement full speed astern – is what Christians call repentance… It means unlearning all the self-conceit and self-will that we have been training ourselves into for thousand of years. It means killing part of yourself, undergoing a kind of death"
"[Repentance is] not something God demands of you before He will take you back and which He chose: it is simply a description of what going back to Him is like. If you ask God to take you back without it, you are really asking Him to let you go back without going back"
(b) This leads to a dilemma
"Only a bad person needs to repent: only a good person can repent perfectly. The worse you are the more you need it and the less you can do it. The only person who could do it perfectly would be a perfect person – and he would not need it"
(c) We can repent if God helps us
"We mean God putting into us a bit of Himself, so to speak. He lends us a little of His reasoning powers and that is how we think: He puts a little of His love into us and that is how we love one another… We love and reason because God loves and reasons and holds our hand while we do it"
(d) Repenting is not something which God does
"…we now need God's help in order to do something which God, in His own nature never does at all – to surrender, to suffer, to submit, to die. Nothing in God's nature corresponds to this process at all… God can share only what He has: this thing in His own nature, He has not"
(e) This becomes possible with the Incarnation
"…supposing God became a man – suppose our human nature which can suffer and die was amalgamated with God's nature in one person – then that person could help us. He could surrender His will, and suffer and die, because He was man; and He could do it perfectly because He was God. You and I can go through this process only if God does it in us; but God can do it only if He becomes man."
4. Some people complain that if Jesus was God, His suffers lose all value in their easy because it must have been easy for him.
"…[some] rebuke the ingratitude and ungraciousness of this objection…surely that is a very odd reason for not accepting them?"
(a) A grown-up can teach you to write
"If [a child] rejected [the adult] because 'it's easy for grown-ups' and waited to learn writing from another child who could not write itself (and so had no 'unfair' advantage), it would not get on very quickly"
(b) Someone on the shore can save you from drowning
"…a man who still has one foot on the bank may give me a hand which saves my life…That advantage – call it 'unfair' if you like – is the only reason why he can be of any use to me. To what will you look for help if you will not look to that which is stronger than yourself?"
Discussion Questions
1.What is the difference between the Christian belief about Christ's atonement and the theories surrounding it?
2. How might we understand substitutionary atonement in terms of a criminal and also as a debtor?
3. How does Jack explain the atonement in terms of the "the perfect penitent"?
4. How does Jack respond to those who say that Jesus' sufferings, since He was God, would have been easy?
C.S. Lewis Doodle
I couldn't find a Doodle 🙁