Quick Apology: Sinai Bible vs KJV

Last week I published an article outlining my response to an abortion meme posted on Facebook by a friend. Today I would like to do something similar. Below is a meme which I also saw on Facebook during Advent: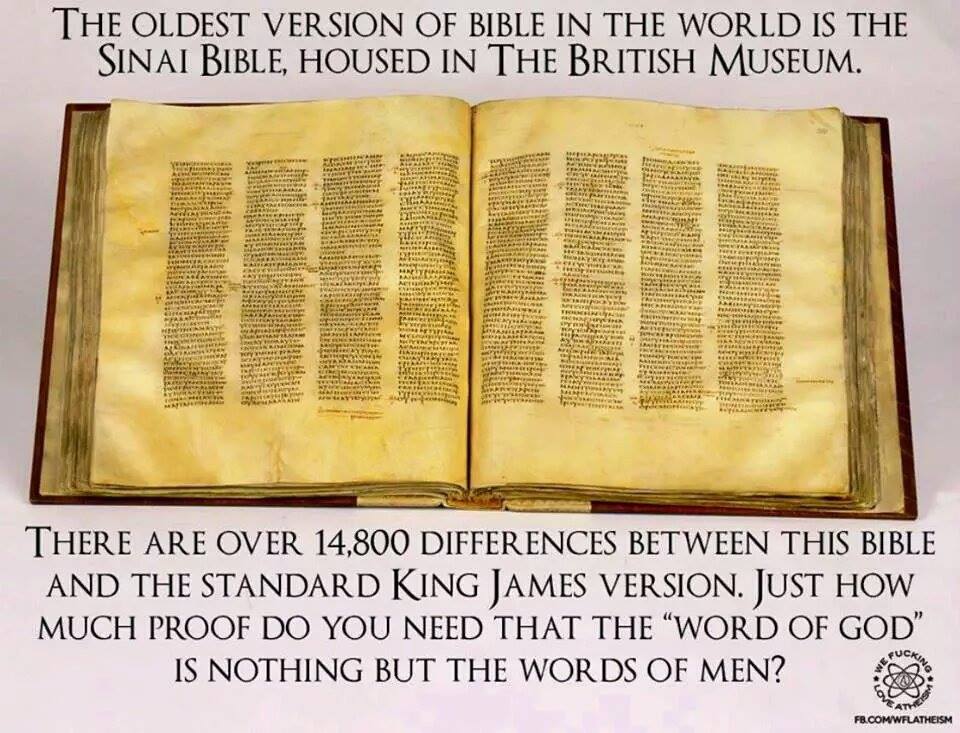 Once again, I would like to share a modified version of the response I posted in reply as I know some readers find it helpful to see how different Christians respond to stuff like this.
My Response
There are really quite a lot of incorrect and misleading statements in this meme. Let's just take each of the statements in turn…
STATEMENT #1: "THE OLDEST VERSION OF BIBLE IN THE WORLD IS THE SINAI BIBLE, HOUSED IN THE BRITISH MUSEUM"
Problem #1: Oldest?
I'm assuming that what they call "THE SINAI BIBLE" is what is known in the academic community as Codex Sinaiticus. If so, then it's a rather bold statement to call this "THE OLDEST VERSION OF THE BIBLE". There's a good chance that Codex Vaticanus is a good thirty years older, demonstrated by its more archaic style and the absence of the Eusebian Canon tables.
Problem #2: Bible?
It would be easy to conclude from this meme that Sinaiticus is the oldest Biblical manuscript we have…but it isn't. Rather, Sinaiticus is one of the oldest collections which contains all the Biblical books in a single volume. We have older manuscripts for each of the individual books. Sinaiticus just happens to have them all together, along with other non-canonical works.
Problem #3: Location
The Codex is in the British Library, not the British Museum. They're not the same thing.
STATEMENT #2: "THERE ARE OVER 14,800 DIFFERENCES BETWEEN THIS BIBLE AND THE STANDARD KING JAMES VERSION"
Problem #4: Languages
The major problem with this meme is that it is asking us to compare a 4th Century work written in Greek to an English translation published in the 17th Century. How's that meant to work?!
Problem #5: The Standards
In fact, why are these two works selected as the standards in the first place? For example, the various problems with the KJV translation are well-known to textual criticism scholars. The issues are a bit too dull to go into here (unless you like that sort of thing), so I'll simply make that point that the KJV isn't exactly the zenith of Bible translations so I'm uncertain why that translation is held up as the standard.
Problem #6: The "Differences"
In textual criticism, any deviation whatsoever between two documents counts as a "difference". This would include spelling mistakes, duplicated words, jumbled word order etc. Why would the author of this meme think that a scribal error suddenly undermines the validity of the Bible?
In fact, if I really wanted to get picky, I could point out that there's a scribal error in this meme! I believe that they meant to say "THE OLDEST VERSION OF THE BIBLE…" Should I doubt the veracity of this meme purely based upon the inability of its authors to proof-check their work?
STATEMENT #3: "JUST HOW MUCH PROOF DO YOU NEED THAT THE "WORD OF GOD" IS NOTHING BUT THE WORDS OF MEN?"
Problem #7: Manuscript Traditions
Let's say for sake of argument that the differences mentioned in the meme were, in fact, really important. Let's even go so far as to say that these differences changed the meaning of the text…what exactly would that prove?
Even if Sinaiticus was irrefutably shown to be riddled with errors, it wouldn't show the Bible to be unreliable. The most you could conclude was that Codex Sinaiticus is an unreliable manuscript.
We have many more manuscripts in addition to Sinaiticus. In fact, we have a full manuscript tradition. As has been often pointed out, the Bible is the best-attested document of antiquity. In fact, it's because of the volume of manuscripts found across the Roman Empire that we can see exactly where scribal errors have been introduced.
Those are the seven problems with this meme. I suppose we can't blame it too much, it is a meme after all, but it is extremely misleading. It compares apples and oranges and completely disregards the well-established science of manuscript studies.