Does God share His glory?
There are some posts to which I regularly refer/hyperlink during apologetic discussions. Many of these kinds of posts are now found in this blog's sidebar. 
I link to such posts because it saves me from repeatedly writing the same explanation, and it also helps limit the highjacking of the discussion thread with side issues. If someone wants to dispute the particular assertion then they have an entire blog post in which to do it where I make my case.
Today's post is one of those posts which I think I'll be linking to regularly…
Last week I was dialoguing with a commenter by the name "Sola Fide" and he made the assertion which I've heard many times before:
Sharing the glory of Christ with a human is idolatry… You are sharing the glory of Christ with Mary…
– User "Sola Fide"
Although it comes from admirable intentions, statements like this are rather mind-boggling when one considers the Biblical data available. Does the Bible ever speak about God sharing His glory with mere creatures? The short answer is, yes…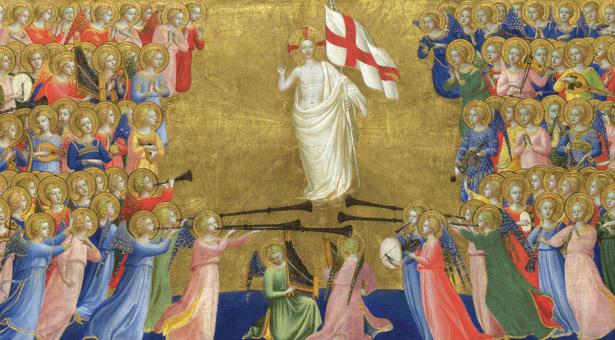 The Longer Answer
So what's the longer answer? Below you'll find a small selection of the passages of Scripture which speak about God and His glory. Scripture says that…
…all of mankind is crowned with Glory…
 Yet thou hast made him little less than God,
    and crown him with glory and honor – Psalm 8:5
…God will save His people and cover them in His glory…
Arise, shine; for your light has come,
    and the glory of the Lord has risen upon you.
  For behold, darkness shall cover the earth,
    and thick darkness the peoples;
but the Lord will arise upon you,
    and his glory will be seen upon you. – Isaiah 60:1-2
…glory is upon angels…
Then the cherubim lifted up their wings, with the wheels beside them; and the glory of the God of Israel was over them. – Ezekiel 11:22
…glory give to kings…
You, O king, the king of kings, to whom the God of heaven has given the kingdom, the power, and the might, and the glory… – Daniel 2:37
…Jesus gives His glory to His Apostles…
"… The glory which thou hast given me I have given to them…" – John 17:22
…we should be seek the glory that comes from God…
How can you believe, who receive glory from one another and do not seek the glory that comes from the only God? – John 5:44
…it's the purpose of the Gospel…
 To this he called you through our gospel, so that you may obtain the glory of our Lord Jesus Christ – 2 Thessalonians 2:14
…it's part of the Christian life…
And we all, with unveiled face, beholding the glory of the Lord, are being changed into his likeness from one degree of glory to another; for this comes from the Lord who is the Spirit – 2 Corinthians 3:18
So I exhort the elders among you, as a fellow elder and a witness of the sufferings of Christ as well as a partaker in the glory that is to be revealed – 1 Peter 5:1
…and we hope to share in God's glory, his reward to the just…
There will be tribulation and distress for every human being who does evil… but glory and honor and peace for every one who does good… – Romans 2:9
Through him we have obtained access to this grace in which we stand, and we rejoice in our hope of sharing the glory of God – Romans 5:2
From all this it is clear. It is for glory for which we were made and it is with glory with which we shall be blessed, participating for all eternity in the life of the Holy Trinity.