Shout Outs
I started this blog a while back now, in June of 2010.  Today I thought I'd advertise the blogs of some of my friends who also write here on the Internet.
1. Transformed In Christ
The first blog I'd like to share (and what prompted this post) is Hannah's blog Transformed In Christ. I first met Hannah when I lived in Cheltenham back in 2003. She's a graduate of Cambridge University and now lives in London. She hasn't been blogging for very long, but she's a smart cookie, so expect some good stuff here 🙂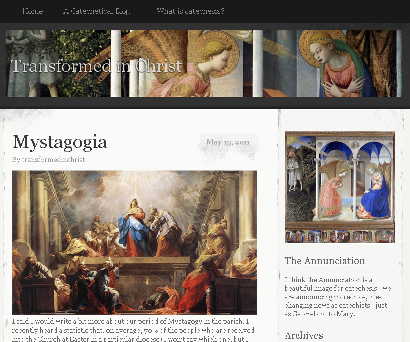 2. Constantly Seeking Grace
My friend Vanida, who lives here in San Diego and is a superb musician , started writing Constantly Seeking Grace in September of last year. She blogs on a pretty regular basis, mostly in a short "Question Of the Day" format.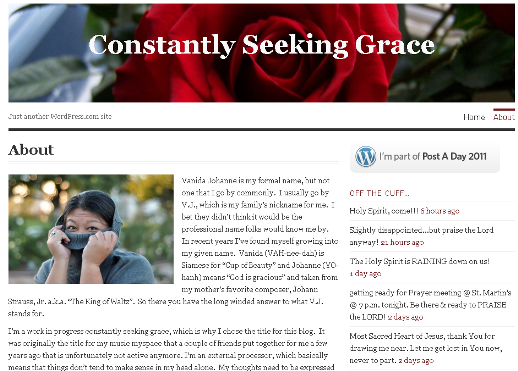 3. A Seminarian's Song
Next up is another local, this time blogging at A Seminarian's Song. As you may have gathered from the name, David is a seminarian here in San Diego. He doesn't blog very regularly, but when he does it's always worth reading. Make sure you check out his entry about "Wuv…truuuuuue wuv…"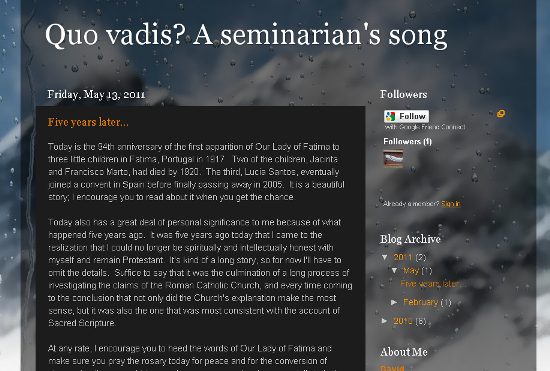 4. Open Ended Story
The next blog is Katie's Open Ended Story. She doesn't post very often, but she does write the occasional post about what's going on inside her head 🙂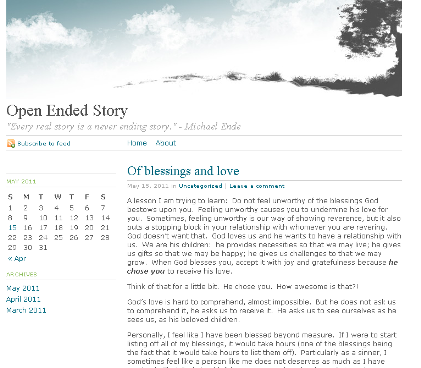 5. Called To Communion
I was a subscriber to this website even before I moved to San Diego. Jonathan is a frequent contributor at Called To Communion, a website concerned with discussing the issues which separate Catholics and Protestants, particularly those Protestants from the Reformed tradition. Expect lots of theological meaty articles 🙂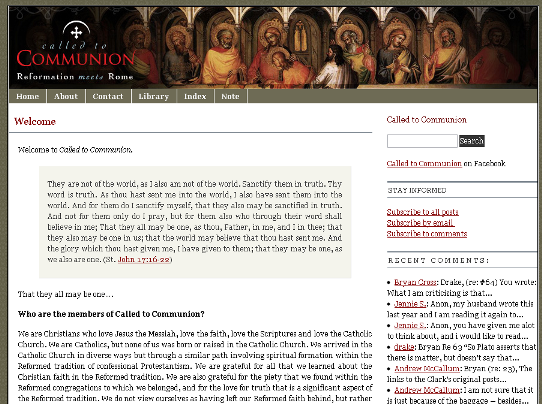 6. Allison's San Diego Adventure
The last San Diego blogger here is Allison. Allison setup her blog Allison's San Diego Adventure to chronicle her adventures in uprooting her life in Virginia and settling in sunny San Diego, something which (and I speak from experience here) is kinda terrifying…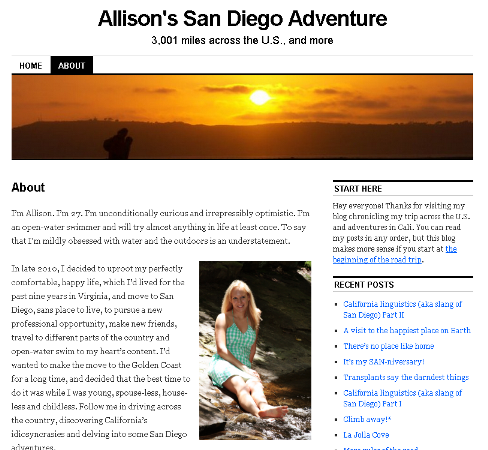 My friend and neighbour John also blogs, but he does it within Facebook so I therefore can't link to it 🙁
7. Alexei TV
The penultimate blog belongs to my university friend and fellow Computer Scientist, Alexei. He uses his blog mostly to share pictures he's taken. He's a bit arty like that 😉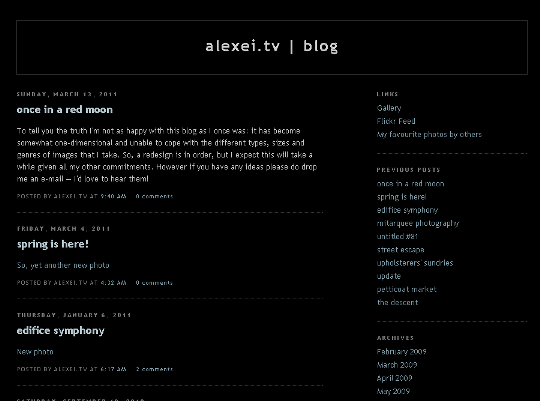 8. Dominus Mihi Adjutor
And last, but by no means least, there is Dominus Mihi Adjutor.  This is a blog belonging to Fr. Hugh, an Australian who now lives at a Benedictine Monastery in England. This is the guy I go to when I want to check something for heresy 😉
I sometimes say things just to wind him up 😀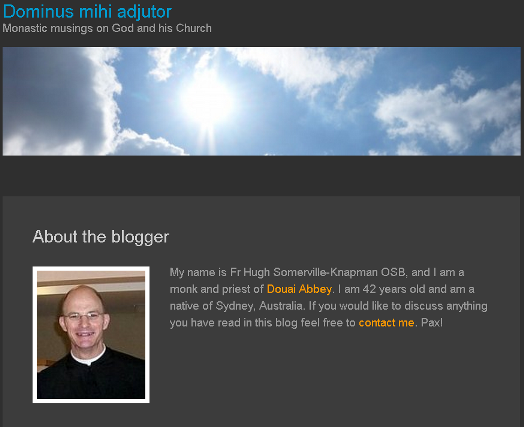 Happy Reading!